Meet Dakota Lelek
Manual Osteopathic Therapist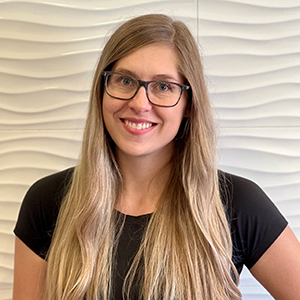 Dakota always wanted to work in a hands-on field where she could help people. She also loves puzzles and is a big problem-solver.
"With manual osteopathic therapy, a key component is addressing the root cause of symptoms and dysfunction."
A Passion for Helping Patients
In her role as a MOT, Dakota aims to restore structure and function to bodily tissues, joints, and systems and improve the body's natural ability to heal itself.
She has experience treating patients with various conditions and concerns, including but not limited to musculoskeletal pain and dysfunction, digestive disturbances, migraines, multiple sclerosis, sleep disturbances, and tinnitus.
For Dakota, the most fulfilling aspect of being a MOT is when a patient's condition improves. "Being able to help someone and improve their quality of life is what led me to this career."
Education & Techniques
Dakota attended Mount Royal University to prepare for her career, where she graduated with a Bachelor of Health & Physical Education: Physical Literacy in 2019. In 2023, she earned a Diploma in Manual Osteopathic Practice from the Manual Osteopathic College of Canada. In addition to being a MOT, Dakota is also a certified professional kinesiologist.
She is also a member of the Canadian Massage and Manual Osteopathic Therapists
Association and the Alberta Kinesiology Association.
Techniques you may experience in a treatment with Dakota include
Craniosacral Therapy
Joint Mobilizations
Myofascial Therapy
Osteoarticulations
Visceral Manipulation
Muscle Energy Techniques
Lymphatic Drainage
In Her Spare Time
Outside the practice, Dakota enjoys spending time with her family on the cattle ranch she grew up on.

Dakota Lelek | (403) 201-1954