Meet Dr. Ryan Brown
Finding a Solution With Chiropractic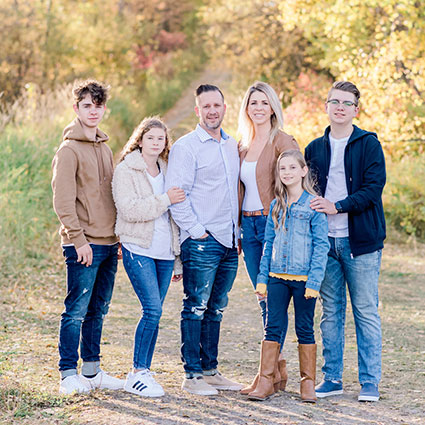 While growing up, Dr. Ryan considered being a trauma surgeon. It was a snowboarding accident that changed his entire plan. A bad landing resulted in a knee injury, leaving him struggling to walk. He went to the chiropractor, at the suggestion of a friend, having no idea what chiropractic was and having tried everything else.
Within a short time, Dr. Ryan was back on the hill snowboarding again. That is where it all started. "I wasn't fully aware at the time, but this was the beginning of something wonderful in my future. This would change my life and that of thousands of other people as a result" After completing university, Dr. Ryan decided to join the natural healing profession, enrolling at Palmer College of Chiropractic. He has been helping patients for over 20 years.
Discovering the NUCCA Technique
During Dr. Ryan's years at chiropractic college, he found out about the NUCCA technique, pronounced [new-cuh]. This gentle method was known for phenomenal results. Dr. Ryan tried it out and saw tremendous improvements in his health and sense of well-being. His wife, Marie, who had suffered from migraine headaches for years, tried it out, too. After each adjustment she immediately felt a warm rush of energy in her neck and a noticeable change in her alignment. Her headaches stopped completely over the course of her care. It was then that Dr. Ryan knew he wanted to dedicate his career to practicing the NUCCA technique.
Since his wife's improvement under chiropractic care, Dr. Ryan has appreciated the wonderful benefits of including chiropractic care into his family's lifestyle. "It's not just about getting rid of the pain, but keeping your body in a state where you rarely get to that point, it's about prevention. That is why I get adjusted." Dr. Ryan believes that, in order to promote health, you must also practice it. "I've changed a lot of bad habits in my life; I exercise daily, I eat right, and of course, get my alignment checked regularly."
My purpose is to help people understand how to take care of this wonderful gift they've been given: their body. I want to help people understand the critical role that proper body balance plays in the expression of health, no matter what age!
Honing His Skills
When Dr. Ryan graduated, he entered practice with Dr. Lee Yardley, in Renton, WA. As a past president of the NUCCA association, he was Dr. Ryan's mentor and he provided advanced training in the technique. He also taught Dr. Ryan the value of precision and mechanics in delivering a specific NUCCA chiropractic adjustment which set the stage for the opening of his own clinic in Calgary.
EXPLORE NUCCA CHIROPRACTIC »
The Joy of Life in Calgary SW
Soon, it was time for Dr. Ryan to return to his hometown. He loves being a part of the Calgary SW community and seeing his patients lives improve. "I've seen the toll that chronic pain can take on a person's life. I love having my patients come in and tell me how they are reconnecting with their spouse, how they are no longer having to take meds or how they are doing things they love again. We're taking down barriers through chiropractic."
In his spare time, Dr. Ryan loves to be with his family. He and Marie have four children, 2 boys and 2 girls. They love spending time outdoors together and are regularly adjusted to stay healthy. Their active lifestyle includes mountain biking, hiking, snowboarding, snowshoeing and wake surfing. Dr. Ryan plays the piano and the drums. He has a passion for music and what it can do for your mood and your outlook on life. It also might surprise you to find out that Dr. Ryan speaks conversational Italian!
Convenient Appointment Times
We have same-day visits, early morning, evening and Saturday hours that work well for busy schedules. Contact Precision Spinal Care today to schedule your chiropractic and massage appointments with us!

Dr. Ryan Brown | (403) 201-1954