New Patients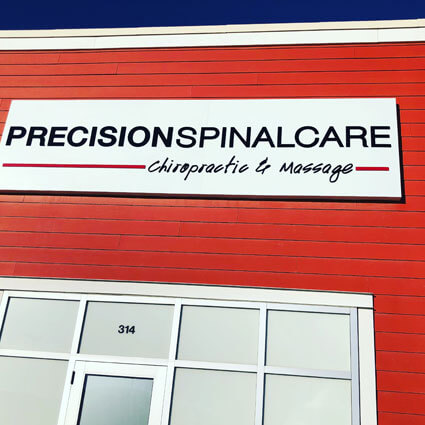 Welcome to Precision Spinal Care! When you step into our comfortable, modern space, you'll be greeted with a genuine smile. Our attention to detail shines through during each part of your visit to our office. With our positive energy and relaxed atmosphere, you'll feel right at home!
Your First Visit
At your first appointment you'll meet with Dr. Ryan to discuss your health concerns and your goals for care. He'll go over your health history and tell you a bit more about what makes our office unique. Then, he'll perform a thorough examination that includes on-site digital X-rays. Dr. Ryan will take all the time necessary to study and analyze these images. Using a specific mathematical equation he will calculate the upper cervical adjustment that is specific to your misalignment. He will also dedicate time to study your case to determine the most effective way to meet your health goals. This visit will last about an hour.
ONLINE FORMS »

When you return, Dr. Ryan will go over all of the findings, including your X-rays, in detail. He will go over what the source of the problem is, how long it'll take to resolve and all costs involved before proceeding. If you choose to begin treatment, you can begin your care at this visit. Following the adjustment, he will take a post x-ray so that he can see the extent of the correction that has been made. This visit will also be about and hour in length.
We encourage you to bring your spouse or a loved one along to this report of findings visit. There's plenty of information to absorb, and you may find that having someone with you can help!
Each subsequent visit is a stepping stone that progresses you forward on your health journey. You'll be in our office for about 10 – 15 minutes for these appointments. Periodic re-examinations are performed to understand the progress you are making and to make any changes to care as needed.
If you're new to chiropractic or haven't been to our office before, you may have questions. Below, you'll find answers to some of the most common. If you have further concerns, we invite you to contact our warm, friendly team to discuss them.
Once I start chiropractic, will I always have to go?

It's entirely up to you how you'd like chiropractic to fit into your life. Our goal for every patient is to get you to maintenance or wellness care. We'll immediately work to resolve your pain and get you feeling better. Your appointments will be more frequent at first to stabilize you. As you get better, the frequency will decrease. Our wellness patients see us about once a month or every other month.
Do I need a physician referral to see you?

You do not need a referral to see a chiropractor. Many people come to see us because they've heard about us through their dentist, orthodontist or medical doctor. It isn't required, however.
Do you prescribe exercises to your patients?

When appropriate, we'll prescribe exercises specific to your condition. Dr. Ryan will go over them with you so that you know how to perform them properly.
If I've had back surgery, can I see a chiropractor?

Yes! Once you are able to lie on your side it is recommended that you come in for treatment. In fact, Dr. Ryan's mother-in-law broke her back and had spinal surgery. She still sees Dr. Ryan for chiropractic care and feels it helps her enormously! Our technique is gentle and safe for everyone.
Is it better to have a chiropractic adjustment before or after my massage?

This is very much a personal preference, there is no right answer. For those that feel like their body is locked or in a stuck position, they may want to get adjusted first so that their body is in proper alignment for their massage. On the other hand, having a massage first will put your body into a parasympathetic or relaxed state and this may help to allow your body for a better adjustment. As you can see, both methods can be powerful in their own way! Everyone is free to choose what is best for them or what works best in their schedule.
We Offer Direct Billing
The good news is that most extended health insurance plans cover Chiropractic Care and Massage Therapy. We direct bill to most of the major insurance companies. Just bring in your card and we'll do the rest! We direct bill for the following companies…
Alberta Blue Cross
Green Shield, Empire Life
Telus Health Group including… Canada Life, Manulife Financial, Sun Life Financial, Desjardins Insurance, Claim Secure, Chambers of Commerce, Johnson Inc, Johnston Group Inc, Industrial Alliance, Cowan, Group Source, Maximum Benefit, GroupHEALTH, Canadian Construction Workers Union, CINUP, First Canadian, LiUNA Local 183, LiUNA Local 506 & Manion.
Alberta Provincial Plan for Seniors
Alberta Blue Cross has a provincial plan for seniors where they will cover a maximum of $25 per visit up to a limit of $200 for chiropractic care per year. The plan is for anyone over the age of 65 with an Alberta Health care number. It renews on July 1st each year and runs until the end of June.
Car Accident Billing
Have you been in a car accident? For 90 days we are able to direct bill your insurance company to cover the cost of treatments. We will work directly with your insurance adjustor, all we need is their contact information, a phone number and email address work the best for us!
After the 90 days of care or 21 visits whatever comes first, we are able to direct bill your personal insurance. Once this is exhausted we are typically able to continue to direct bill through your insurance adjustor. Please ask our friendly staff if you have any questions or concerns.
Get Started Today
Contact our friendly team today to schedule your first appointment! We direct bill right to your insurance company and have convenient hours!
CONTACT US »

New Patients | (403) 201-1954