Supplements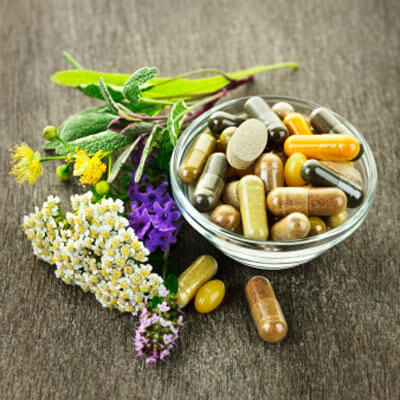 Omega Sufficiency™ is the purest, most natural fish oil available with natural EPA:DHA ratios and NO Artificial Chemical Concentration. Because of this Omega Sufficiency™ is aligned with the human genetic requirements for Omega 3 consumption and thus provides the maximal health and prevention benefits.
Omega Sufficiency™ is the world's premier EPA/DHA omega 3 fish oil. Each teaspoon or 4 capsules provides 720-825 mg of EPA and 480-550 mg of DHA omega 3 essential fatty acids which have been scientifically shown to be a crucial requirement for health and important in the prevention of illnesses such as heart disease, arthritis, ADD, depression, stroke, cancer, diabetes, high blood pressure, obesity, osteoporosis, Crohn's disease, ulcerative colitis, eczema, learning and cognitive development problems, and Alzheimer's.
Omega Sufficiency™ is extracted in a licensed pharmaceutical grade facility from cold water anchovies, herring and sardines that are the purest source of omega 3 fish oil. Our oil is purified in a non-chemical molecular distillation process that removes all trace amounts of heavy metals, PCBs, organochlorides, and organophosphate pesticides resulting in the safest, purest source of EPA/DHA fish oil possible. As the oil is purified it is immediately infused with our natural, proprietary antioxidant blend consisting of rosemary extract, ascorbyl palmitate and natural mixed tocopherols. This process ensures the greatest oxidation protection possible.There simply is not a better, purer source of EPA/DHA omega 3 fatty acids in the world as our third party testing results indicate.
Our extraction process keeps the fish oil in its most natural form possible, this is crucial because human beings are genetically designed to ingest, digest, and absorb EPA and DHA essential fatty acids in the form they are found in nature, not in any concentrated form produced by chemical processing. If science and experience has taught us anything it is that we cannot improve upon nature.
The issue of Vitamin D deficiency as a major causal factor in immune system related illnesses ranging from seasonal cold and flu, to heart disease, to cancer, to atopic and autoimmune disorders has received a lot of attention in the last few years. Clinical journals as well as the mainstream media have been reporting evidence that modern industrialized humans are severely deficient in Vitamin D and that this deficiency is a major contributing factor to illness and lack of health and vitality.
What does vitamin D do and why is it so important for wellness and prevention?
Before we discuss the evidence regarding vitamin D sufficiency and health and vitamin D deficiency and illness let's first look at the basic science regarding the importance of vitamin D for human immune function and health. A basic understanding of why vitamin D is a genetic human requirement for wellness and prevention will allow greater understanding of why vitamin D supplementation is required.
The innate immune system is the component of our immune system that is genetically programmed to respond to antigens (viruses, bacteria, fungi, and any other threatening non-self invaders). The innate immune system uses what are termed effectors that are genetically coded to respond to antigens or invaders. The most studied of these effectors are named antimicrobial peptides or AMPs. AMPs not only attack the invaders they also trigger tissue repair and activate the adaptive or acquired immune system (the branch of the immune system that creates antibodies to specific antigens after exposure).
Recent research has shown that vitamin D up-regulates the genetic expression of AMPs in immune cells. Vitamin D also plays an important role in controlling the inflammatory response initiated by specialized immune cells called macrophages. A deficiency of vitamin D means deficient control of inflammation. In the skin vitamin D also activates the immune system against antigens.
"Thus, vitamin D both enhances the local capacity of the epithelium to rapidly produce endogenous antibiotics and, at the same time, dampens certain arms of adaptive immunity, especially those responsible for the signs and symptoms of acute inflammation."
Cannell et al. 2008 Cod Liver Oil, Vitamin A Toxicity, Frequent Respiratory Infections, and the Vitamin D Deficiency Epidemic. Annals of Otology, Rhinology & Laryngology 117 (11): 864-870
There are three variables that determine the quality and value of a multivitamin-mineral supplement and Vita-Sufficiency™ sets the standard in all three.
Amount of vitamins and minerals
Source of vitamins and minerals
Organic Certification
We are proud to inform you that Vita-Sufficiency™ is the world's first certified organic multivitamin-mineral with clinically significant amounts of 100% naturally occurring, 100% synthetic-free, 100% certified organic plant sourced vitamin, minerals, polyphenols and bioflavonoids. Equally important, it is 100% yeast-free so you can be sure that it hasn't been made by feeding synthetics to yeast and then extracting these synthetics and calling them 'natural'. It is also 100% free from corn, soy, and gluten.
High Quality Supplements
In terms of quality and value there is simply no better choice – in fact there is not even a comparison. If you are ready to find out more, call our Precision Spinal Care team today! We offer same-day appointments for immediate attention. Contact us today.
CONTACT US »

Supplements Silverado, Calgary SW AB | (403) 201-1954